Clockwork Alchemy 2022: Marvelous Makers Has Concluded

Thank you Clockwork Alchemy family!

So many of you showed up this weekend to catch up with old friends and make new ones at our Marvelous Makers event. We have always had teachers and makers sharing their skills with us, but this year we had twice as many workshops in new and exciting areas. Wearable electronics, EVA foam, and faux scrimshaw to name only a few. As always, we had so much to do and only so many hours in a day. READ MORE…
Clockwork Alchemy is San Francisco's own steampunk convention, celebrating alternative history, sci-fi, and fantasy.
For anyone who loves sci-fi with an alternate history spin, Clockwork Alchemy provides a 3-day event with an immersive environment, welcoming community, and many hours of panels, games, social events, and concerts. Clockwork Alchemy is a great event for readers, artists, makers, crafters, costumers, fans, families and more, coming the weekend of April 7-9, 2023.
This coming year's theme is "Villains & Heroes" in our new lair the San Mateo Marriot. We look forward to seeing you in 2023!
---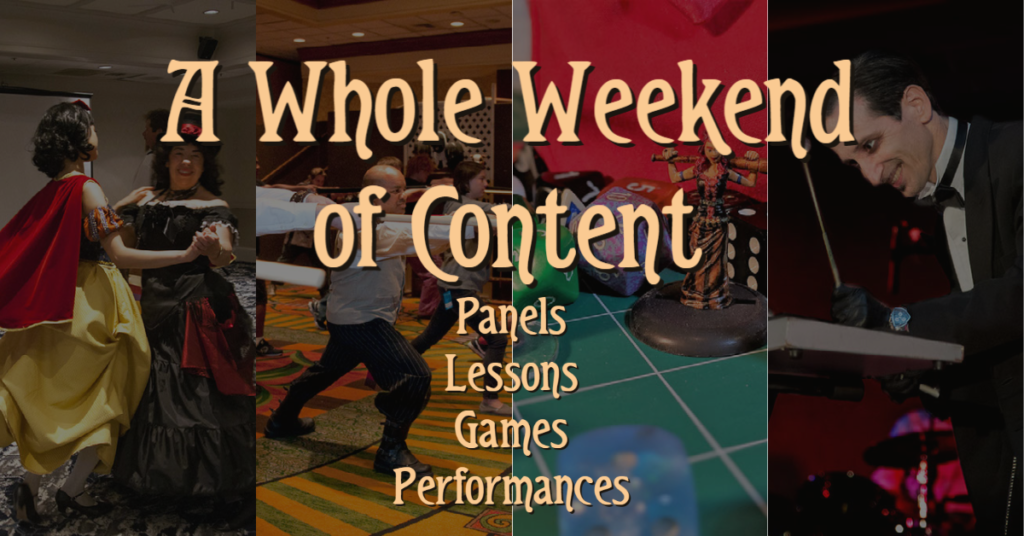 Immerse yourself in fun and activities all weekend long. Attend educational panels and classes to learn history, science, literature, crafts and martial arts.
In the evenings, the convention transforms into a showcase of entertainment and music, with concerts and dancing.

Some panels and workshops have limited seating and/or materials fees. Check if a panel or workshop has a size limit or materials fee here on Eventbrite.
2022 Guests of Honor
2022 Author Guests
Instructors of the 2022 War Room
Click on the individual instructors to see their class information.
2022 Musical Guests