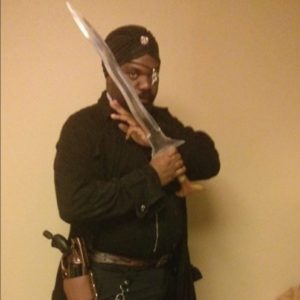 Martial Arts has been the focal point of Henry M. Hill IV's life since the age of 13. He started out using
martial arts to escape from street life in Richmond, CA. Once reaching adulthood, he joined Black Swords
in Oakland, California. This is where he trained with shanai and earned his first spot as an instructor teaching
Historical African Martial arts for 4 years, Black Swords for 20 years. He has a working knowledge of Zulu martial arts, Meyer Dusack, Eskrima, and Kendo.
Henry-Hill-bio-and-Class-Description-1