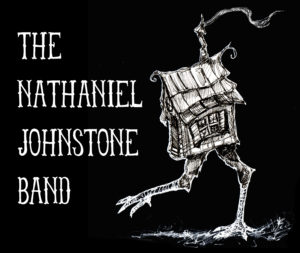 Nathaniel Johnstone is a multi-instrumentalist singer/songwriter who sings about humanity, myth and whimsy. His work includes the transhumanist fantasy The Mother Matrix and the playfully audacious The Dubious Hat and Other Tales of Ineffable Horror.
Steampunk-Music.com praises his "technical dexterity and emotional expressiveness" as he blends inspiration from metal, jazz, punk, folk, rock, and blues from all over the world. The result is a unique, vibrant and multicultural sound that transcends boundaries of genre or theme.
Nathaniel cheekily calls himself "polybanderous", reflected in his lengthy history performing on stage with any singer, musician, dancer and artist who loves music and mayhem as much as he does.
Joining him on stage are his partners in crime: the mystical Mr. Dogwood, guitar god Mike Mermelstein, drummer extraordinaire Tom Coyne, and newest collaborator, multi-instrumentalist (good heavens, what instrument doesn't he play?) Martin Irigoyen.