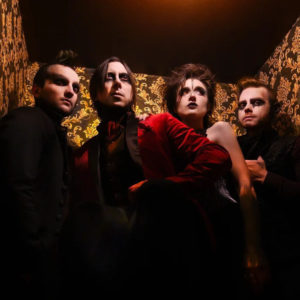 Having the ambitious wish to propel the entire world into a melodic vortex, Marquis of Vaudeville emits an extraordinary sound that spirals listeners on an utterly imaginative, musical merry-go-round. Listeners never know what moodswung journey they'll embark upon once these musical highwaymen hijack their consciousness.
With imagination at its core, the theatrical flair and intriguing nature of their songwriting have grasped the attention of music lovers from the most critical of music elitists to the average radio listener. Although performing frequently at pop-culture and steampunk-fandom conventions and festivals, the musical menagerie is widely known for their own extravagant Vaudevillian inspired sold-out spectacles such as A Clockwork Wonderland: Through Aether & Mysterium, Gadgets & Gobstoppers: The Twisted World of Wonka, and the show that shares the grandiose title of their ambitious debut album, The Great Promenade of Fools & Ghosts.
The group is known the world over for their progressive, psychedelic, punk-cabaret stylings fusing timeworn elements of the old world with newfangled innovation. Due to the music's mysterious, yet playful nature, they have befittingly dubbed the style 'melodic mischief.'
The act has composed and licensed music for a variety of film projects and television shows, such as the syndicated series Charmed & Showtime Network's hit series Dexter. They've also been featured in such steampunk publications as Race Point Publishing's book Anatomy of Steampunk, as well as Gearhearts Steampunk Glamor Revue.
Hate them or love them, they demand the world take notice, and merely desire to incite something genuine, to inspire sincere emotion despite the world's mind numbing mediocrity and generic mass production. Marquis of Vaudeville is a tantalizing flavor for even the most finicky musical appetite.