By Sabrina L. Nelson for Clockwork Alchemy
Have you ever wondered what Steampunks do after a long day of monster hunting, tinkering in the lab and tea dueling? We dance the "Concentric Gears Waltz" of course! Dance is a featured event at Clockwork Alchemy and we can't think of anyone more capable of both teaching and calling dances of the Victorian era with a Steampunk flair than our very own Cathleen and James Myers, along with their teaching assistant, Christian Milan. This toe-tapping trio is the backbone of PEERS, the Period Entertainment and Educational Recreation Society. Every month at the Alameda Elks Lodge, PEERS hosts a dance party with a different historic theme. From the Canterbury Tales to the works of Jane Austen to Gotham by Gaslight and Wonder Woman, PEERS teaches and illustrates these great works in dance and entertainment of the period. For Clockwork Alchemy, PEERS coaches and leads us through the basics of Victorian waltzes, such as the rotary waltz, mixer waltzes, polkas, and schottisches, and the much-beloved Congress of Vienna Waltz. PEERS also leads and calls English Country Dances. These dances revolve around pattern making and most resemble square dance or contra dance, except at a more refined pace. The order and symmetry of English Country Dance is a beautiful illustration of the Steampunk aesthetic.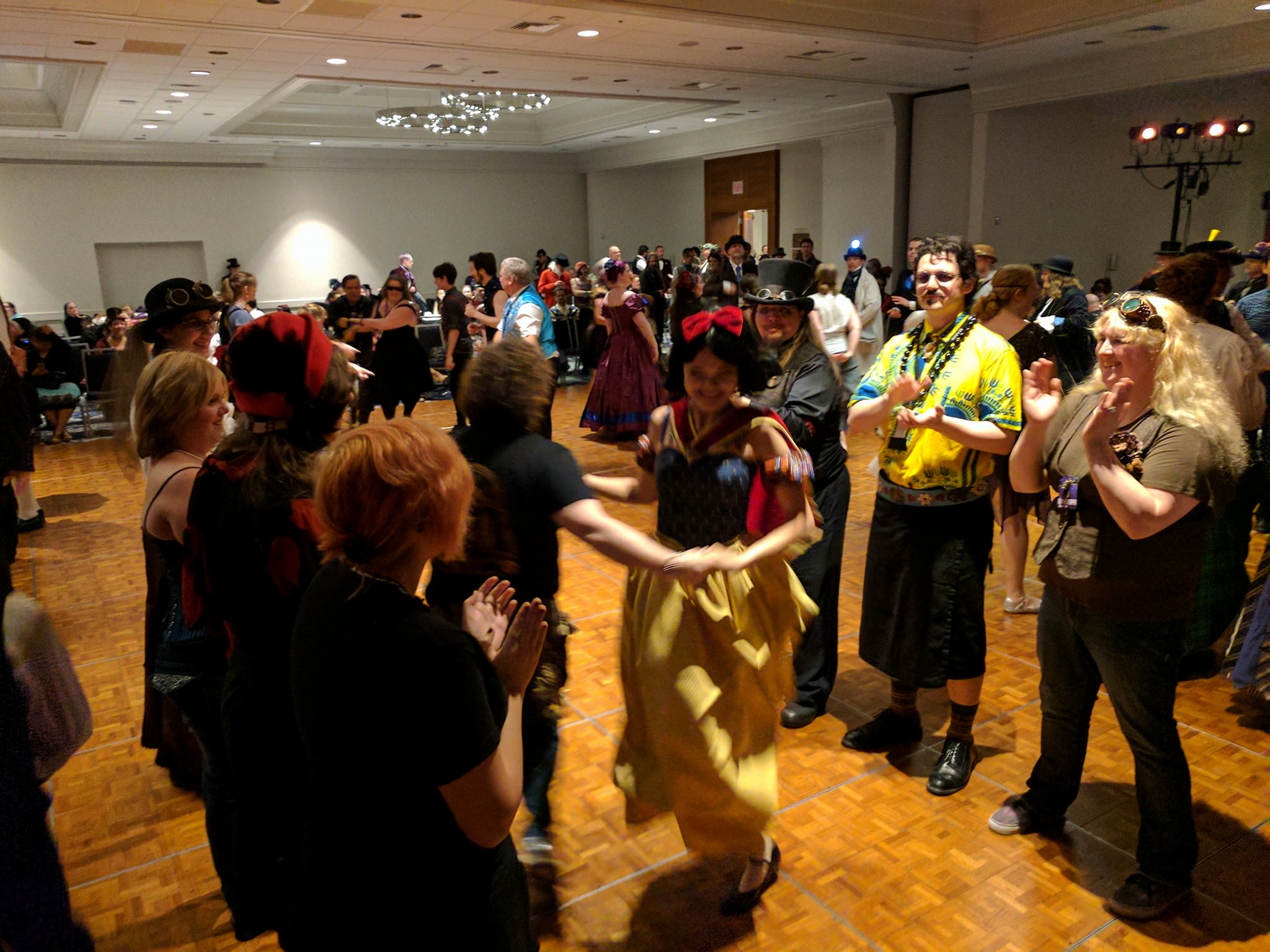 It's not much fun to spend all day in dance class and have nowhere to show off your new moves, so we have our Friday night concert, Aural Alchemy and Emperor Norton's Ball on Saturday, featuring Lee Presson and the Nails, where you can dance swing, modern or anything in-between. Dust off your Lindy Hop, East Coast Swing, West Coast Swing, waltz, or just do your own thing! The Emperor Norton Ball is not only the biggest dance event at the con but it's also the best place to show off that shiny new pair of goggles or hat you made in our maker room earlier in the day.
According to Cathleen Myers of PEERS:
"The gala Saturday evening, Emperor Norton's Ball, will open with Victorian and vintage ballroom dance, DJ'ed by Persephone, with an emphasis on waltz. The Victorian segment of the evening will also include a few simple Victorian Steampunk set dances and mixers, taught by dance masters James and Cathleen Myers. One of the highlights of the ball is the wildly popular swing dance with music by the celebrated jump swing band, Lee Presson & the Nails, who also play cool Blues, elegant Fox Trots, and novelty numbers I won't even attempt to describe, but the words 'volcanic energy' come to mind.
On Sunday we will teach a Victorian waltz and waltz variations class at noon, followed by an afternoon social dance from 1 – 2 pm, 'Waltzing Around the Clockwork,' including a variety of Victorian and Victorian Steampunk waltz mixers and set dances. No partners or experience necessary and all pattern dances will be taught and called. These dances are simple but beautiful with a scientific symmetry delightful to behold – and dance.
Our remarkable swing dance instructors Stacy Hanssen and Gregory Friedman will also be back at Clockwork Alchemy, teaching swing classes, including tips on partnering and some fun variations."
All dance classes and events are welcome to all participants. Modern and enlightened Steampunk custom encourages you to ask anybody to dance, regardless of your gender, orientation, or social status. And if you're looking for a partner for Congress of Vienna, look for me, the lady in green.
See you at the ball!