Steven Barnes
Steven Barnes is the NY Times Bestselling, award-winning author of over thirty novels, as well as writing for television's The Twilight Zone, Andromeda, and the Emmy-winning "Stitch In Time" episode of The Outer LImits among others. Winner of the NAACP Image Award and creator of the Lifewriting system of writing and personal development, he lives in Southern California with his wife and writing partner, British Fantasy Award winning novelist Tananarive Due.
Valjeanne Jeffers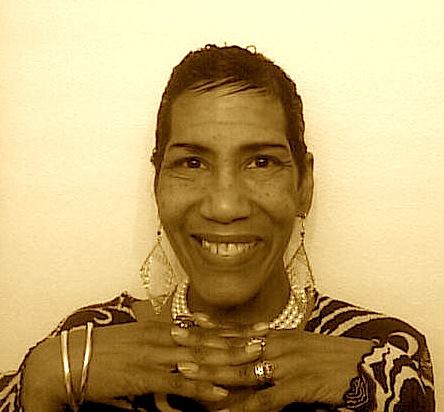 Valjeanne Jeffers is a speculative fiction writer, a Spelman College graduate, a member of the Horror Writers Association and the Carolina African America Writers' Collective. She is the author of ten books, which include her Immortal, Mona Livelong: Paranormal Detective, and The Switch series. Valjeanne has been published in numerous anthologies including: Steamfunk!;The Ringing Ear; Luminescent Threads: Connections to Octavia E. Butler; Fitting In: Historical Accounts of Paranormal Subcultures; Sycorax's Daughters; Black Magic Women, The Bright Empire, and, most recently, All the Songs We Sing, Bledrotica Volume I; Slay: Stories of the Vampire Noire; Obsidian Tales, and Sorghum and Spear: The Way of Silk and Stone (in press).
Sumiko Saulson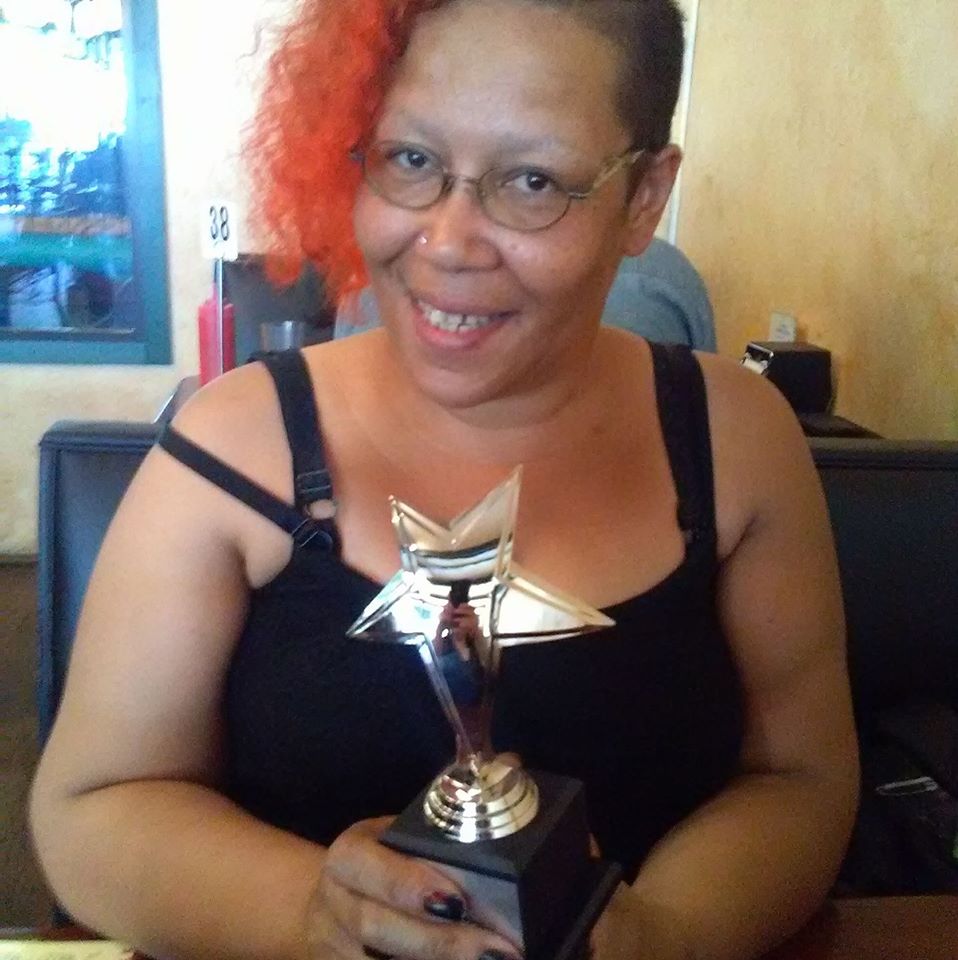 Sumiko Saulson is an award-winning author of Afrosurrealist and multicultural sci-fi and horror. Ze is the editor of the anthologies and collections Black Magic Women, Scry of Lust, Black Celebration, and Wickedly Abled. Ze is the winner of the 2016 HWA StokerCon "Scholarship from Hell", 2017 BCC Voice "Reframing the Other" contest, 2017 Mixy Award, 2018 AWW "Afrosurrealist Writer Award," 2020 HWA Diversity Grant recipient. Ze has an AA in English from Berkeley City College, and writes a column called "Writing While Black" for a national Black Newspaper, the San Francisco BayView. Ze is the host of the SOMA Leather and LGBT Cultural District's "Erotic Storytelling Hour."
Balogun Ojetade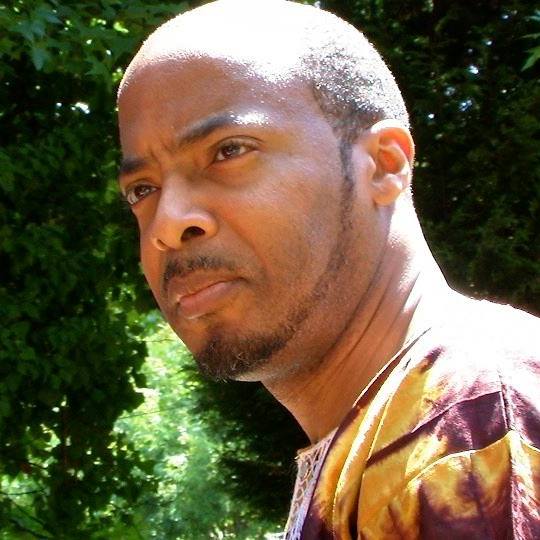 As  a former combat veteran (MOS: 18F), Master and Technical Director of the Afrikan Martial Arts Institute and Co-Chair of the Urban Survival and Preparedness Institute, Balogun Ojetade is the author of twelve bestselling non-fiction books Afrikan Martial Arts: Discovering the Warrior Within, The Afrikan Warriors Bible, Surviving the Urban Apocalypse I & II, The Urban Self Defense Manual, The Young Afrikan Warriors' Guide to Defeating Bullies & Trolls, Never Unarmed: The Afrikan Warriors' Guide to Improvised Weapons, Ofo Ase: 365 Daily Affirmations to Awaken the Afrikan Warrior Within, Ori: The Afrikan Warriors' Mindset, Ogun Ye! Protecting the Afrikan Family and Community, Kori O: Protecting Afrikan Children from Violence & Sexual Abuse, and SKG: The Black Man & Woman's Guide to Sticks, Knives and Guns.
He is one of the leading authorities on Afrofuturism and Afroretroism—film, fashion or fiction that combines African and/or African American culture with a blend of "retro" styles and futuristic technology, in order to explore the themes of tension between past and future and between the alienating and empowering effects of technology and on Creative Resistance. He writes about Afrofuturism/Afroretroism—Sword & Soul, Rococoa, Steamfunk and Dieselfunk at http://chroniclesofharriet.com/.
He is author of twenty-eight novels and gamebooks, including MOSES: The Chronicles of Harriet Tubman (Books 1 & 2); The Chronicles of Harriet Tubman: Freedonia; Redeemer; Once Upon A Time In Afrika; Fist of Africa; A Single Link; Wrath of the Siafu; The Scythe; The Keys; Redeemer: The Cross Chronicles; Beneath the Shining Jewel; Q-T-Pies: The Savannah Swan Files (Book 0) and A Haunting in the SWATS: The Savannah Swan Files (Book 1); Siafu Saves the World; Siafu vs. The Horde; Dembo's Ditty; The Beatdown; Initiate 16; Gunsmoke Blues; Malik: Confessions of a Black Identity Extremist; Malik: Confessions of a Black Identity Extremist 2: Enemy of the State; Kill City; The Ice Cold RPG; The Ice Cold RPG: Dice-Fu; Granma's Hand RPG; The Haunting of Truth High RPG; Steamfunkateers: The Steamfunk Role Playing Game, Steamfunkateers 2.0; and the Steamfunkateers adventure, The Haunting of the House of Crum—contributing co-editor of three anthologies: Ki: Khanga: The Anthology, Steamfunk and Dieselfunk and contributing editor of the Rococoa anthology and Black Power: The Superhero Anthology.
He is also the creator and author of the Afrofuturistic manga series, Jagunjagun Lewa (Pretty Warrior) and Jagunjagun Lewa RPG, and co-author of the Ngolo comic book series.
Finally, he is co-author of the award winning screenplay, Ngolo and co-creator of Ki Khanga: The Sword and Soul Role-Playing Game, and Ki Khanga 2.0: Sword and Soul RPG all with author Milton Davis and creator of the Ice Cold RPG.
Reach him on Facebook at https://www.facebook.com/Afrikan.Martial.Arts and on Instagram at @balogun_ojetade and @afrikanmartialarts. Find his books on Amazon at https://www.amazon.com/Balogun-Ojetade/e/B00AVEA7SU.
Dover Whitecliff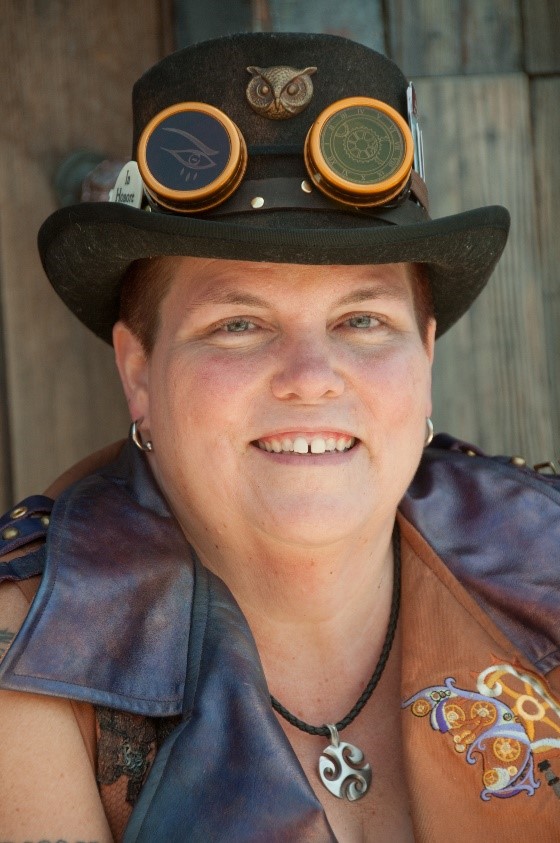 Dover Whitecliff is an author, an artist, an analyst, and a jack-of-all-trades. She writes fiction in a multiverse of fusion, including such mashups as Murder by Spandex, a Port Liberty Cozy Mystery (sleuthing with superheroes) She Wolf in Shorts (cybersteam secret agents) and The Stolen Songbird (steampunk Hardy Boys with kick ass girls). She also pens art and poetry for Haiku Hedgehogs. Dover was born in the shadow of Fujiyama, raised in the shadow of Olomana, and lives where she can see the shadow of Mt. Shasta if she squints and it's a really clear day.
You can connect with Dover at:
Website: www.doverwhitecliff.com
Twitter: https://twitter.com/DoverWhitecliff
Facebook: https://www.facebook.com/penelope.dreadfulle
Storyboards for Dover's writing projects and novels can be found at:
Madeleine Holly-Rosing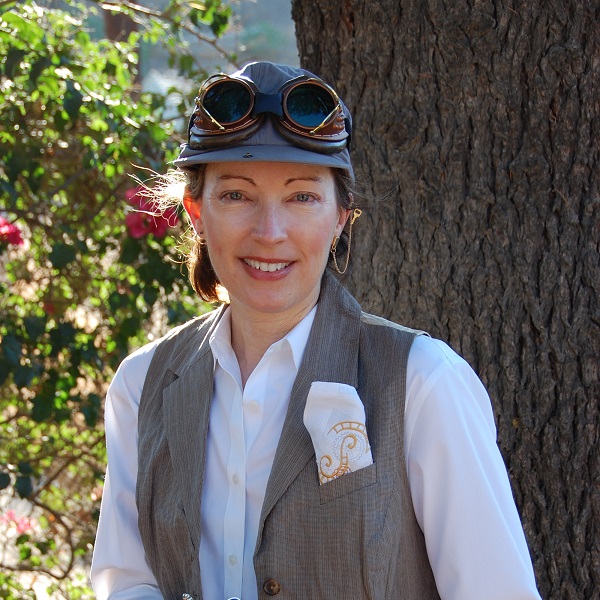 Madeleine Holly-Rosing is the writer/creator of the award-winning Boston Metaphysical Society graphic novel series. Previously self-published, it is now published by Source Point Press. The series also includes the award winning prequel novel, A Storm of Secrets, and an anthology. After running eight successful crowdfunding campaigns, she published the book, Kickstarter for the Independent Creator. Other comic anthology projects include: The Scout (The 4th Monkey), The Sanctuary (The Edgar Allan Poe Chronicles), The Marriage Counselor (Cthulhu is Hard to Spell), The Glob (Night Wolf), The Infinity Tree (Menagerie: Declassified), and the upcoming, The Birth (Stan Yak Vampire Anthology).
Michael Tierney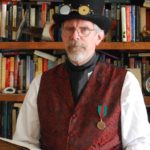 Michael Tierney writes steampunk-laced alternative historical fiction stories from his Victorian home in Silicon Valley. After writing technical and scientific publications for many years, he turned his sights to more imaginative genres. Trained as a chemist, he brings an appreciation of both science and history to his stories. His latest novel is Mr. Darwin's Dragon. Visit his blog at www.airshipflamel.com.
David L. Drake and Katherine L. Morse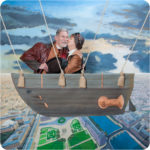 David L. Drake and Katherine L. Morse are the San Diego-based authors of "The Adventures of Drake and McTrowell," a serialized steampunk tale detailing the adventures of Chief Inspector Erasmus Drake and Dr. "Sparky" McTrowell. The duo's many adventures are provided in weekly penny dreadful-style episodes on the web www.DrakeAndMcTrowell.com). They have produced four novels since 2010 and can be seen cosplaying their alter egos at conventions all over the West.
Anthony Francis
By day, Anthony Francis teaches robots to learn; by night he writes science fiction and draws comic books. Anthony's best known for his Skindancer urban fantasy series of novels including the Epic eBook Award winner Frost Moon and its sequels Blood Rock and Liquid Fire, all following the misadventures of magical tattoo artist Dakota Frost trying to raise her weretiger daughter Cinnamon in Atlanta.
Anthony also writes the Jeremiah Willstone steampunk series, following a young female soldier in a world where women's liberation happened a century early – and so, with twice as many brains working on hard problems, the Victorians invented rayguns and time travel. In addition to her debut novel Jeremiah Willstone and the Clockwork Time Machine, Jeremiah appears in a dozen other stories, including "Steampunk Fairy Chick" in the UnCONventional anthology.
Anthony is co-editor of the anthology Doorways to Extra Time and a co-founder of Thinking Ink Press, publisher of the steampunk anthologies Twelve Hours Later, Thirty Days Later, and Some Time Later. He's the artist of the webcomic fanu fiku and he's co-author of the 24 Hour Comic Day Survival Guide. He's participated in National Novel Writing Month and its related challenges over 20 times, recently cracking one million words written in Nano.
Anthony lives in San Jose with his wife and cats, but his heart will always belong in Atlanta. To learn more about Dakota Frost, visit facebook.com/dakotafrost or dakotafrost.com; to learn more about Jeremiah Willstone, visit facebook.com/jeremiahwillstone; to learn more about Anthony and his appearances, visit his blog dresan.com.
Laurel Anne Hill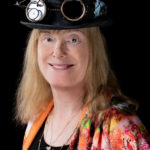 Laurel Anne Hill—author and former underground storage tank operator—grew up in San Francisco, with more dreams of adventure than good sense or money. Her close brushes with death, love of family, respect for honor and belief in a higher power continue to influence her writing and her life. She has authored two award-winning novels: The Engine Woman's Light (Sand Hill Review Press), a gripping spirits-meet-steampunk, coming-of-age heroic journey, and Heroes Arise. Laurel's published short stories and nonfiction pieces total over forty. She has served as a program participant at many science fiction/fantasy conventions, including the World Science Fiction Con and World Fantasy Con. She's the Literary Stage Manager for the annual San Mateo County Fair, a speaker, writing contest judge, and editor. And she's even engineered a steam locomotive. For more about her, go to http://www.laurelannehill.com.
AJ Sikes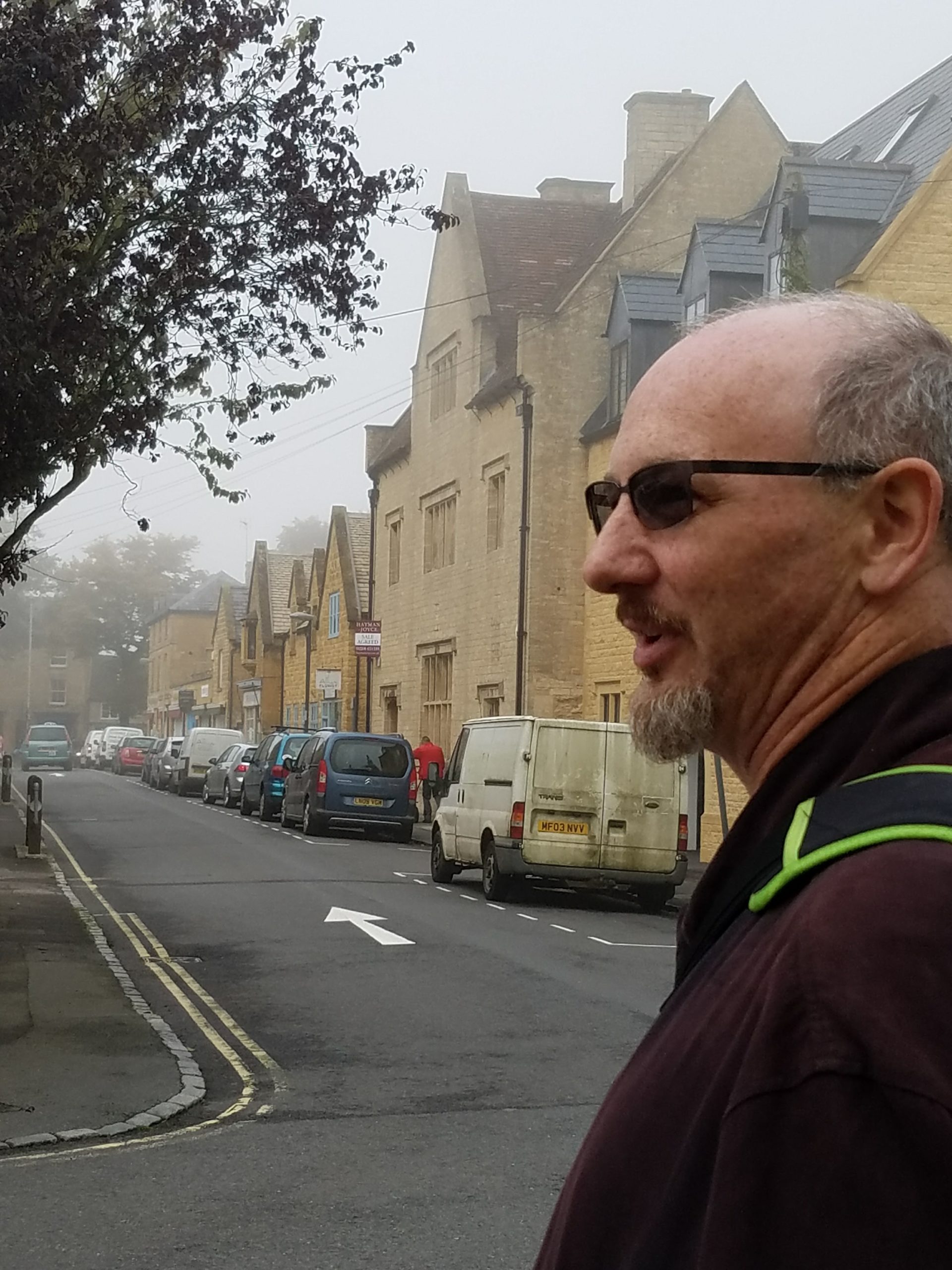 AJ Sikes is an author of Steampunk, neo-noir Dieselpunk, and, more recently, post-apocalyptic military sci-fi. Since 2013, He's been an editor to authors writing Steampunk, fantasy, neo-noir, space opera, horror, and post-apocalyptic fiction. He's even had the pleasure of editing a memoir or two. Truth telling time: the stories you hear about stay-at-home writers and editors are true. It's all tea, cats, and naps. As for the bodies in the basement, I really don't know what you mean. Why just the other day…
Find him at http://www.ajsikes.com/
BJ Sikes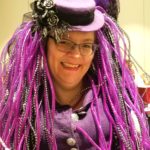 BJ Sikes is a 5'6″ ape descendant who is inordinately fond of a good strong cup of tea, Doc Marten boots, and fancy dress. She lives with two large cats, two small children and one editor-author. She is the author of the alternate history novel, The Archimedean Heart, a mix of fin-de-siecle artistes, royal roboticists, and revolutionaires. A follow up novella appears in the anthology The Clockwork Oracle and a full sequel, The Vitruvian Mask, is in the works. BJ Sikes edited and contributed to 12 Hours Later, 30 Days Later, and Some Time Later, a trilogy of alternate history short story anthologies featuring many of the Clockwork Alchemy authors.
https://bjsikesblog.wordpress.com/
T.E. MacArthur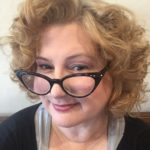 T. E. MacArthur is an author, artist, and historian living in the San Francisco Bay Area with her constant companion: kitten Calypso. She received her Bachelor's Degree in History and spent many an evening in subsequent Anthropology, Geology, Criminal Investigation, and Art classes. However, storytelling remains her passion. She has written for several local and specialized publications and was even an accidental sports reporter for Reuters. The Volcano Lady series follows the adventures of Victorian lady scientist Lettie Gantry, through the worlds of Jules Verne. The Gaslight Adventures of Tom Turner novellas continue the thrilling adventures of Robur's First Mate turned Hero. To put it mildly, T.E. has a love for all things Victorian (history and clothing from 1870–1890 in particular) and is having a lifelong affair with the writings of Jules Verne.