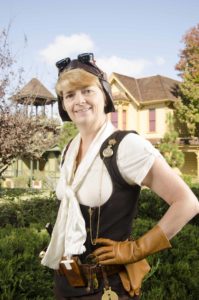 by Katherine L. Morse
A steampunk serial adventure with a new author every episode!
"Super Mondo chai, please. Two raw sugars."
Please just get your drink. I have a date with destiny…or insanity…and I really need a cold brew. "Super Mondo cold brew, um, please."
The woman who had just ordered rocked back on the heel of her ankle boot and commented, "Super Mondo is a good choice. You're going to need the caffeine for what lies ahead." Her comment shocked Kip into fully noticing her. She was wearing clothing of a slightly antiquated style that looked insufferably hot for the day: long skirt, long-sleeved blouse, a vest with a pocket watch hanging from it, and what looked to be a Gladstone bag slung cross-body. "You remind me of my childhood best friend." She cocked her head, smiled, and winked before strolling to the other end of the counter to get her drink.
The whole business was seriously starting to smell like heat stroke, so Kip, cold brew in hand, went looking for a cool spot to sit down. The only free table was at the back…right in front of the tiny free library, of course. Kip had just settled when the peculiar woman reappeared, asked "May I?" and plopped herself into the other seat at the table without waiting for an answer. "You'll want to drink a bit of that first. The transit can make you a bit wobbly, so you'll want your wits about you."
"Who are you, and how do you know about…er?"
"The hedgehog?"
"You know about the hedgehog?"
"Clearly. I'm in a bit of a rush to get back to London. Someone special is waiting for me there. May I tag along?"
Kip had the distinct feeling that she was using "may" in the same way she had about the seat at the table. "Sure."
In one smooth movement, she pulled a couple of books from the library and put them on the table, looking at them as if they held her interest. "Then let's get moving while no one is looking." She cocked her head at a keyhole in the back of the library box. Key in the key hole; firm twist; queasy sucking feeling; squishy pop; ornate, densely packed bookstore. The hitchhiker smiled again, took a sip of her chai, and said, "save yourself some trouble. Go straight to the till on the left. The clerk will be expecting you. Oh, but don't let her see the coffee. She's quite peevish about drinks in the shop." And with that, she strode through the door and out into the street.
Lacking a better idea, Kip approached the left till, noticing a small section on marine cryptobiology and a much larger one on teen romance along the way. Just before reaching the counter, Kip thought the ginger-haired clerk shimmered like a flame against the night sky. Does that make four or five hallucinations in the last half hour?
"You're just in time, Kilpatrick."
"Forget about time. Where am I in space?"
"Daunt."
"Don't what?"
"No, Daunt. You're in Marylebone."
"The hedgehog said I would be in London. And where's the fifteenth door?"
The clerk rolled her eyes. Her golden, crimson, flaming eyes. "Surely you didn't think it would be that easy. You had best finish drinking that cold brew you're doing such a dreadful job of hiding, or it will evaporate." And she burst into flames, taking the whole bookshop with her.