Contents
Letter from the Chairs
Steep Thoughts from The Aviary Teahouse: Tsubame Kuckicha
Steampunk, Belly Dance, and Prince Albert
Steampunk 101.2 with Gene Forrer
Fiction – The Codex of Quills – Ep2
The Clockwork Alchemy Artist's Gallery and Exhibition – Artist Profile: Teri Lenfest
Vendor Showcase: Clockwork Monster
Activities and Events
Letter from the Chairs
Happy Thanksgiving from Clockwork Alchemy!
We hope you are all well, healthy, and hale! This has been a particularly difficult year and we know many of you are not able to spend this holiday in person with your loved ones. Challenging as these times are, there is still art, music, theater, and beauty in this world. We hope the contents in this month's newsletter can point you towards some of those bits of respite and enjoyment as we celebrate the creativity that connects all the Clockwork Alchemy Family. This season, we are most grateful for you, our Clockwork Alchemy Family. Till we can be together again, be well and thank you for being a part of our community!
Sincerely,
Alyssa, Co-Chair of Clockwork Alchemy
Steep Thoughts from The Aviary Teahouse: Tsubame Kuckicha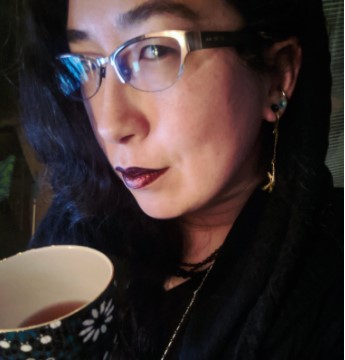 By Astra
Welcome to Steep Thoughts! The Aviary is the imaginary teahouse of Astra, CA's Head of Logistics. When she's not building conventions with her amazing team, she's a life-long tea enthusiast who reads too many books on the subject and will talk your ear off if given half a chance.
Mixing cultures a little today. Trying out this Tsubame Kukicha brewed in my Korean cha-gwan. Served with sea salt mochi and yak-gwa on vintage Japanese Lusterware.
Steampunk, Belly Dance, and Prince Albert
By Dawn Devine ~ Davina
Have you ever passed through the hallways of an event and contemplated how the format for fannish conventions came to be? Conventions of all sorts, like our own Clockwork Alchemy, owe their formula to none other than Prince Albert, husband of Queen Victoria…
Steampunk 101.2 with Gene Forrer
Fiction – The Codex of Quills – Ep2
by Katherine L. Morse
A steampunk serial adventure with a new author every episode!
"Super Mondo chai, please. Two raw sugars."
Please just get your drink. I have a date with destiny…or insanity…and I really need a cold brew. "Super Mondo cold brew, um, please."
The Clockwork Alchemy Artist's Gallery and Exhibition – Artist Profile: Teri Lenfest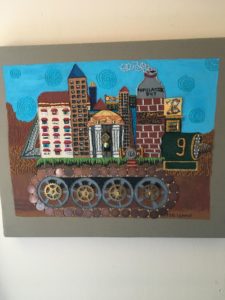 This month's featured artist this month is Teri Lenfest. Teri is a long-time steampunk and friend of Clockwork Alchemy. She has displayed many of her pieces in the Artists' Gallery at previous conventions, and has helped out as a volunteer in many capacities…
Read the full article and see the full gallery here…
Vendor Showcase: Clockwork Monster
Shelly Jackson is the owner of Clockwork Monster, a millinery company making beautiful hats, hat making kits, and headwear for stylish steampunks.
Learn more, see Shelly Jackson's creations, and shop at the following websites:
https://www.facebook.com/ClockworkMonster/
https://www.etsy.com/shop/clockworkmonster
Activities and Events
New album from Unwoman:
https://unwoman.bandcamp.com/album/the-love-apocalypse-or-uncovered-volume-6
New song from Professor Elemental:
Clockwork Alchemy Alumni on the Web:
Nathaniel Johnstone
Frenchy and the Punk
Dogwood
Crystal Bright and the Silver Hands